Do you feel like your body image and weight issues are holding you back from the love you've always wanted? You're not alone. This can be a big block for those that don't feel deserving of love and it manifests into our bodies. This was also a huge issue for me too, but not anymore! Let me teach you what worked for me.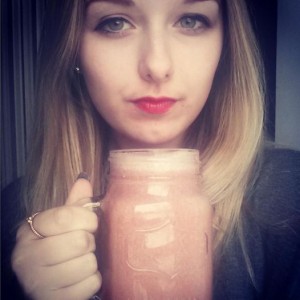 I really love food, and even posing with it sometimes. Food is a delicious, joyous experience, that fuels my body with love. I eat as much as I want, whatever I feel like,rarely get sick, and am in great shape that keeps getting better and better. I even lost 20 Ibs in the last year eating more of what I wanted and exercising LESS.
I do not restrict myself. Exercise is really a fun thing for me: it feels like play-time and if I don't feel like working out, I don't. I do not force myself. I have an amazing relationship with my body! We actually trust each other.
But it wasn't always like this. I used to suffer from low self-esteem. I did not believe I was worthy of good things and I manifested a life built on a lack of self-love. This definitely reflected in my love life but it also included my relationship with my body. I eventually developed an eating disorder, and really f*#$%& up my relationship with food, exercise, and my body. I was underweight, and I was overweight and I found balance. It took time to heal, but I did it. Whether you're underweight or overweight, if we get into the dieting mentality, we often mess ourselves up and sabotage ourselves by trying to make too big of leaps, or we just don't have the tools, awareness, and support to succeed.
This 1-day intensive is a 3-hour intensive where you are given the tools to succeed. We get into the nitty-gritty or your relationship with and beliefs about food, exercise, and your body, to uncover and bring clarity and healing to what's holding you back, as well as identify where you're at, and your triggers surrounding food and exercise to compose a diet and exercise plan that's built to last and support you throughout your journey.
This 1-Day VIP Intensive is a 3-hour long intensive (yes, there will be potty breaks) designed to help you get your sh** together with food and exercise in record time without the restriction and with emotional awareness.
We will identify what's holding you back from stepping into the diet and exercise changes you've really been wanting to make. You will gain clarity, and self-awareness so that you will be able to make those changes easily and naturally from a sustainable, self-loving place, without all the restriction, guilt, and self-hatred.

A Manifest your Soulmate consultation session
The Make Friends with Food and Exercise workbook for your diet and exercise plan, triggers, affirmations, and more!
A diet plan: Gain clarity on why you have emotional issues and blocks with food. Learn your triggers around food. Discover your Guilt foods (trigger foods), and your good foods (foods that make you feel good physically, emotionally and actually taste good). Compose an aligned food plan based on freedom and love that will actually have a positive impact on your body. Get custom affirmations/mantras and other tools to use when food fears are triggered.
An Exercise Plan: Gain clarity on why you have emotional issues and blocks with exercise. Learn your triggers and around exercise. Figure out what are fun, sustainable forms of exercise for you, and how often you should exercise. Compose an aligned exercise plan based on freedom and love that will actually have a positive impact on your body. Get custom affirmations/mantras and other tools to use when exercise fears are triggered.
1 week of email support: If you have any concerns or questions come up and need some more assistance, email me and I will there for you while you're getting the hang of things.
30-minute follow-up session

If you fail at dieting. (I failed at it too! it's not because you failed at your diet – your diet failed you)
Struggle with self-confidence and really don't feel good in your own skin
Can't seem to maintain weight-loss
Can't seem to lose those last remaining couple of pounds
Have a mild to severe lack of motivation when it comes to dieting, eating healthier, or exercising
Feel lots of guilt towards food when you eat something "bad"
Feel deprived and restricted in your current diet and lifestyle
Obsessively eat clean to the point of stress (orthorexic)
Feel self-conscious and unhappy about your body
Have feelings of feelings like a failure and like you're not good enough
I'm so excited to work with you!

What my clients are saying:


"I'm feeling really good! The weight is gradually falling off as I feel better and better as I start to let go of limiting beliefs around my body. I've truly noticed an amazing change! I'm finding my physical shape changing, I'm losing fat and gaining muscle so all's going well! I've lost 10 kg now (22lb). It's amazing what happens when we challenge limiting beliefs! Thank you!" -Liam
"Since I did the intensive I've felt very motivated, my energy levels have also increased. My eating and exercise habits changed because they came from a place of self love and not guilt. I've received compliments from friends and family who have also noticed the change(Weight Loss)and the workbook is also great to look back on. Thank You Gianna!" -Katie