Aligned Love Coaching Program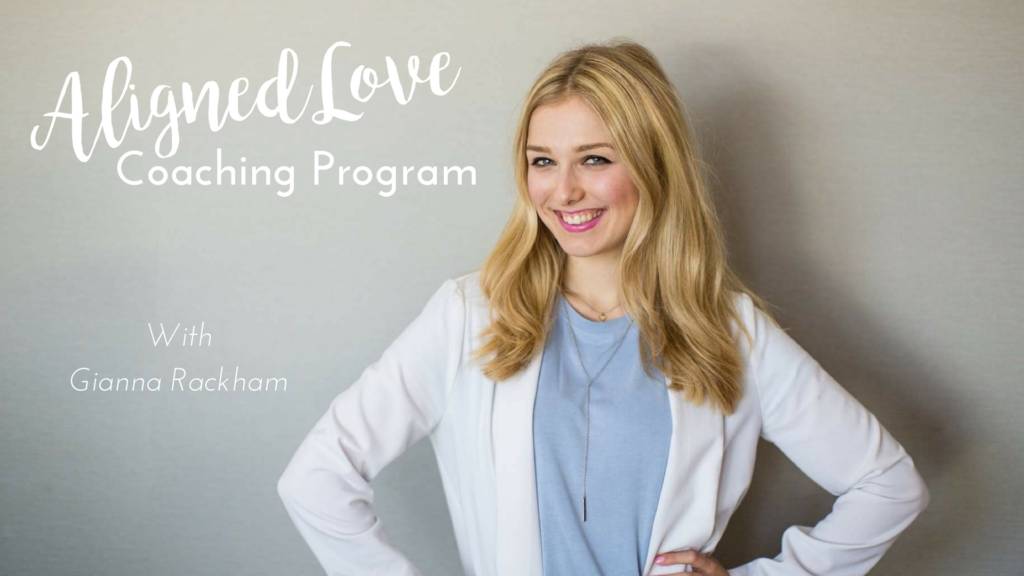 This program is for those looking to manifest their soulmate, wanting to clear codependency, self esteem, sexual blocks, learn about the law of attraction, and learn how to sustain your soulmate relationship after it manifest while connecting with an awesome like minded community at the same time.
Payment option 1: 2 bi-weekly payments of $525 per month(3,150 total)

Payment option 2: 1 monthly payment of $1,000 ($3,000 total)

Payment option 3: 1 payment of $2,500
⇒ Access to 2 bonus trainings from Gianna's VIP client training vault
⇒ 1 Extra Bonus group coaching call and 1 extra 1:1 call with Gianna
⇒ 1, 30 minute 1:1 call with Gianna per month
⇒ 1, group coaching call per month
⇒ 1, informative training with homework per week related to the subject we're covering
⇒ Access to guest expert speakers through their special trainings and Q&A calls JUST for group members such as:
     - Genevieve Rackham(Money Manifestation expert)
     - Justin Blackburn(Self Empowerment and Law of Attraction Coach)
⇒ Unlimited support in the group chat from Gianna and the other group members
"After years of working on myself, overcoming childhood trauma, building self esteem, and ridding my life of the toxic people that held me back, I was ready for love. Truly ready. I was 34 years old unmarried without children, and I felt open and free and was wanting someone to share and build my life with. Rewind a year to me at 33, when I began taking this quest more seriously and went into what I call dating overdrive. Hopping from dating site to dating site, dating man after man, each one somewhat a better match than the last but ultimately, the same dude with a different name - mostly emotionally unavailable boys dressed up in man's clothing. I had made my "ideal husband" list and gotten clarity on what I wanted, but for a year, I continued to go through guy after. Honestly, I was left feeling exhausted and also with a level of emptiness that was chilling to me. I felt like there was some type of shift that I needed to make, but I had no idea what it was. In walks Gianna. I was instantly drawn to her teachings and trainings, and my soul knew this was my answer. As a result of her, I was able to make several small changes in my mind and heart that clicked me into the place I needed to be, resulting in my soulmate effortless manifesting in my life two months later. What? Yes! I have joyful tears as I write this because I'm overwhelmed with gratitude. Gianna, thank you for guiding me in releasing my last bits of codependency, being truly fulfilled being alone, planting pretty flowers and enjoying it lol, increasing my self worth, believing I'm a fucking bad ass who is deserving of the love I desire, and stopping the vicious cycle of Tinder. Oddly enough, I met my man on Tinder, but he flowed in to my matches, and everything there after flowed in a magical but practical and mutual way. I feel total peace now being loved and having the opportunity to love. However, I found that peace before he stepped into my life. When I truly loved myself unconditionally, soulmate love came in. Thank you for showing me how easy it can be Gianna. Anyone would be lucky to train with you!"
"So I found Gianna through another website and read her article on emotionally unavailable men and instantly I was like OMG this is me. I had just gotten out of a year and a half relationship with an emotionally unavailable man. I felt desperate and hopeless. I was a singe and miserable 30 year old and felt like I had missed the boat to meet someone. I am a very keen self development type girl so I signed up for many online courses on relationships and even worked with other coaches. So many taught me to play hard to get - but this just didn't work long term. I was left very confused. I had my first session with Gianna in December 2016 and she just completely blew my mind. That day my brain clicked, my whole attitude changed. The next day I met my now boyfriend of 9 months. See the thing is though even after I met him I still REALLY needed to do the work, I still wasn't able to stay as high vibe as I was after that call with Gianna. So I decided to work with her. She coached me through so much, the first few dates, anxiety, even through the anxiety of waiting for him to ask him to be my girlfriend and say "i love you". She helped me through all of it. Now 9 months into my relationship I can honestly say this is the best relationship I've ever had. He is such an amazing guy and I am grateful for him everyday. Gianna is hands down the best relationship coach I've ever met. Please do yourself a favor and work with her. You will not regret it. Thank you Gianna."
⇒Law Of Attraction
     -What is the law of attraction and how does it work
     -Allowing verses forcing (making manifestation fun and easy)
     -Identifying your blocks and limiting beliefs that are keeping you from manifesting what you desire and more
⇒Codependency
     -The biggest blocks that facilitate codependent relationships, recognizing patterns of Codependency in all of your relationships, how to clear them and what to do instead and more
⇒Self love
     -Body image: manifesting your ideal confidence and body weight making a healthy body fun and effortless
     -Emotional Shame: learning to be at peace with all of your emotions and how to authentically express yourself in a relationship in a healthy way to create deep intimacy with your future or current partner 
Ft: Gianna Rackham and Justin Blackburn 
     -Social Anxiety: learning to not seek other people's approval so you can always be yourself confidently 
     -Feeling worthy of money -How loving yourself helps you manifest more money into your life easier so you can feel totally worthy of love and everything you desire, ft: Gianna Rackham and Genevieve Rackham 
⇒Sexuality
     -Sexual shame: releasing sexual shame so you can be your true, free, sexy self in the bedroom 
Ft: Gianna Rackham 
     -Orgasm-identifying and clearing any and all blocks to epic orgasms
     -emotionally available sex, dealing with unhealthy fantasies and how to have soulmate sex that turns your body and soul on.
⇒Making Your Relationship Last
     -learning what healthy love looks like, what habits you need to learn to make your relationship last through any hard times so your relationship can not only last but get better over time.
     -Taking the law of attraction into communication and setting boundaries
     -how to communicate like a Spiritual badass 
     -How to feel totally free, aligned and in love constantly in your relationship and allow your partner to feel the same way.
⇒And more
Ft: Gianna Rackham and Justin Blackburn
I have never offered this much 1:1 access to me outside of my 1:1 program.
This program is only for an intimate and dedicated group that is ready to transform and become the love of their life then meet and create an epic relationship with the second love of their life!
Spots will go quickly once this is announced to the public.
To secure your spot all you have to do is make your first payment.
"I joined Gianna's Manifest your Soulmate program for the soul purpose of learning to love, accept and approve of myself. I had been on a self-love journey for six years but could never bring myself to say "I love myself" without it feeling fake. Gianna helped me clear my codependency, my limiting beliefs, my fears and she instilled in me a confidence and clarity about life that I had never known before. Within a month of working with her, I achieved my goal of being able to say I love myself with 100% certainty. I was already in a relationship before joining her mastermind but she helped me reach my goal and create a deeper, more loving connection with my partner. The group setting helped me learn from others and realize we're all struggling with similar issues. Gianna is a beautiful soul who is extremely attentive, listens carefully and provide specific feedback for your individual circumstance. She is truly a genuine, loving person who loves her clients so much. She has changed my life for the better and I would recommend her to any friend."
Payment option 1:
2 bi-weekly payments of $525 per month(3,150 total)
Payment option 2:
1 monthly payment of $1,000 ($3,000 total)
Payment option 3:
1 payment of $2,500